NOW it is official. Spring is here!!!!!!! Many of you may be shaking your heads since the official day of spring is March 21st, and today is March 25th, but in my book it is now Spring because I have finished my Spring wreath and it is hanging on our door.
It came out SO much better than I imagined. My original thought was to do an interchangeable wreath since I loved the concept, especially since it would be great on our wallet, but when I thought to do the Spring sign I nixed that thrifty idea. Wait, you have no idea what I am talking about since I didn't even share my creation with you. On that note, drum roll please, I present to you my wreath for Spring of 2011:
I am so proud of this little beauty, if I must say so myself, since I used many techniques. The whole idea originated from the wonderful wreath made by the fabulous
Myra
of
the casabelala project
, who did a picture perfect
Ruffled Burlap & Jute Wreath with interchangeable embellishments
. My GOAL was to have a ruffle, but for some reason my wreath had an0other plan. I am in no way complaining since I LOVE the way it turned out, so did Mr. Man. He was so excited to come home and see this beauty on our front door.
This post is not a step by step although I will give you the links to the tutorials I used when making the flowers. I will give you the instructions for the spring sign I added at the bottom. Also, one thing I learned from this wreath is a straw wreath is VERY hard to wrap. If you are planning on doing ANY type of wrapping, other than a fabircl, I highly suggest using a different form.
So, on to the parts of the wreath. I will start with the left:
For the multicolor flowers with the buttons I used
this
tutoral from
NatSprat
. Now I will warn you, there are MANY tutorials out there for fabric rosettes and this by far is my favorite. The green flower was made, kind of, using
this
tutorial from
lemon tree creations
. I say kind of because the sewing machine didn't behave so I kind of had to fudge it. Still came out cute.
On to the left side:
The pink flower and the multicolor flower both with buttons were made by following
this
tutorial. This by far was the MOST fun to make. Will be using this to make Bean some clips as well as onsie's. If you follow her directions they come out perfectly. The other two flowers are yoyo's. I used
this
tutorial by Heather Baily. Please, if you are looking to make a yoyo this is THE tutorial to use. She explains why you should plan on using a short versus a long running stitch as well as gives you ways you can use yoyo's in your projects.
Now on to the
sign. This was my little creation. Best part, you DO NOT need a di-cutting machine, because I do not own one. All I did was use MS Word and found a font that would be easy to cut out. I spelled out Spring in all capital letters, made it a big enough to print where I was happy with the size on the wreath, printed it out and made a stencil on cardboard. I then took my fabric used some fabric glue, glued the fabric to some more cardboard and used the stencils to cut out the letters. There you have it, a spring sign without a di-cutting machine. Hey, Mr. Man, if you are reading thins, add di-cutting machine as a possible gifts for me. Hint Hint!!!!!!!
Lastly, I used some coordinating ribbon to hand up my wreath like this:
When I cut the ribbon I made sure I had extra on top to tie a bow. To ensure the ends didn't fray I used a match and sealed the ends. This was a suggestion I read in a post from
Little Miss Momma
. Worked PERFECTLY. Thanks
Ashley
!!
So, welcome Spring glad you finally decided to come. Even if you bought us some more snow.
Forgot to add this last night. Will be linking to: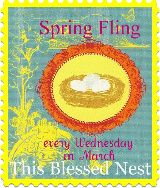 Decided to link to
Chic on a Shoestring Decorating
: